BMW 10pin motor cable
2020-07-06 09:41:00
Autodiag has 14 years experience in producing OBDii cables. We use the highest quality raw materials. The cable is not only of good quality, but also cheap. We can customize for our clients. Some of our clients cooperate with us even for 14 years, not only because our products are good, but aslo because we are trustworthy and have good after- sale service.
BMW 10 pin cable has good sale in June. So Today i would like to introduce it. If you happen to need buy this cable, don't hesitate to buy.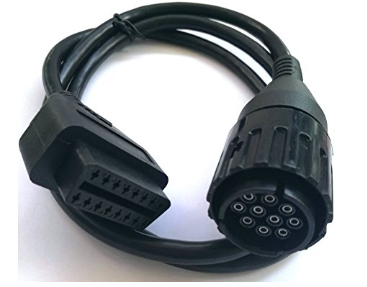 Description
1.INFOS: BMW 10pin motor cable is for BMW ICOM D Cable ICOM-D Motorcycles Motobikes 10 Pin Adaptor 10Pin To 16Pin OBD2 OBDII Diagnostic Cable.
2.WAY: To connect BMW motorcycle interface with OBD 16pin side and to connect motorcycle with 10pin side.
3.FUNCTIONS:BMW 10 Pin adapter Works for ICOM D Motorcycles Motobikes diagnostic tool. A ICOM D 10PIN to 16pin connect cable.
BMW 10pin motor adapter is a bmw motorcycles diagnostic connect
Cable
It should be used with BMW ICOM A1 and BMW ICOM A2 scanner, can
test all BMW motorcycle. Can do all functions including
diagnostic and program.