Multifunctional VAG Diagnostic Tool V-Checker V202 VAG PRO OBD2 Code Reader
V-Checker V202 code reader is specially designed to provide diagnosis service for all electronic system of VAG family cars including Audi/Volkswagen/Skoda/Seat.The device is capable of troubleshooting nearly 100 electronic systems including Engine,transmission,airbags and ABS.The tool is suitable for users, small and medium-sized car repair shop .
Email:Sales@autodiagtech.com


Multifunctional VAG Diagnostic Tool V-Checker V202 VAG PRO OBD2 Code Reader
V-Checker V202 Introduction:
V-Checker V202 code reader is specially designed to provide diagnosis service for all electronic system of VAG family cars including Audi/Volkswagen/Skoda/Seat. The device is capable of troubleshooting nearly 100 electronic systems including Engine, transmission, airbags and ABS.The tool is suitable for DIYers and professionals.
Works with all modes of Audi, Volkswagen, Skoda and Seat.
Support protocols: KWP1281,KWP2000, Can Bus
Troubleshoots nearly 100 systems:
engine system, transmission system, ABS, Brake systems, air bag systems, air conditioning systems, burglar alarms, ultrasonic monitoring system, clutch control, suspension systems, directional control, steering wheel assistance, central locking control, shock absorption system, the dashboard system, auxiliary heating, distance control, Gateway data bus , electric window system, light control left and right light control, navigation system, internal testing, the central module, automatic light switches, electric drive, battery control, emergency call module, parking assist, electronic control unit, four-wheel drive, anti-skid control , the driver's seat adjustment, diesel pump system, headlight control, radio, tire pressure control, seat / Mirrors, battery charging, electric wipers, electric drivers door , electronic co-driver door, left rear door electronic control, electronically controlled right-rear, brake booster, brake assist booster, rear spoiler, access and start control, the front passenger seat adjuster, display control unit , the rear display control unit, TV tuner, voice control, car phone, electric sunroof, rear driver side seat adjustment.
Supported Language:
Simplified Chinese, Traditional Chinese, English, Spanish, German, French, Hungarian, Portugal, Dutch, Polish, Russian, Turkish, Czech, etc.
Basic function:
Retrieves ECU information, reads DTCs, displays live data stream, clears DTCs, basic system adjustment, channel adjustment, reads independent channel data, test actuator, programs control unit, system log and sends chassis number.
Special function:Reset oil lamp, IN1 and IN2.
Help information:
Clear the value of self-learning, adaptation of ECU and throttle, adaptation of waste gas recirculation's value, basic settings of automatic transmission , reset maintenance lamp, remove or program remote car key, dashboard, reset steering angle sensor, fuel level sensor adaptation, air bag lift / activation, dashboard language, basic settings for air conditioner / heating system, program new airbag control module.
· Work with Volkswagen,Audi,Seat,Skoda sold worldwide since 1990
· Read and erase Diagnostic Trouble Codes (DTCs) of engine, ABS, airbag, A/T, radio, A/C, cent., elect., steering wheel,
instruments,immobilizer, etc. (78 Systems)
· Read and clear generic trouble codes of cars using KWP1281, ISO 9141-2(CARB), ISO 14230(KWP2000) and ISO 15765(CAN) protocols
· Turn off MILs of engine, airbag, ABS , A/T and most other systems
· CAN (Controller Area Network) capability
· Reset oil service light
· Support all test modes, including ECU Information, Read Fault Codes, Measuring Blocks, Clear Fault Codes, Basic Settings, Adaptation,Single Reading, Output Tests, Code Module, Login, Chassis Num adjust, End output, Readiness
· Display I/M Readiness Status
· One Year Limited Warranty
Item Pictures: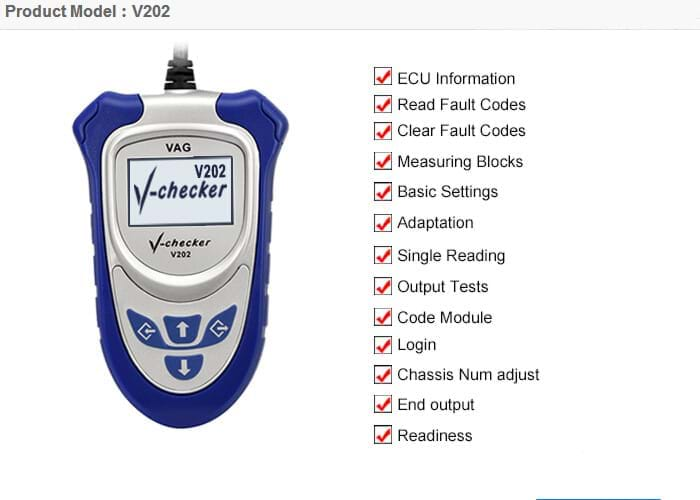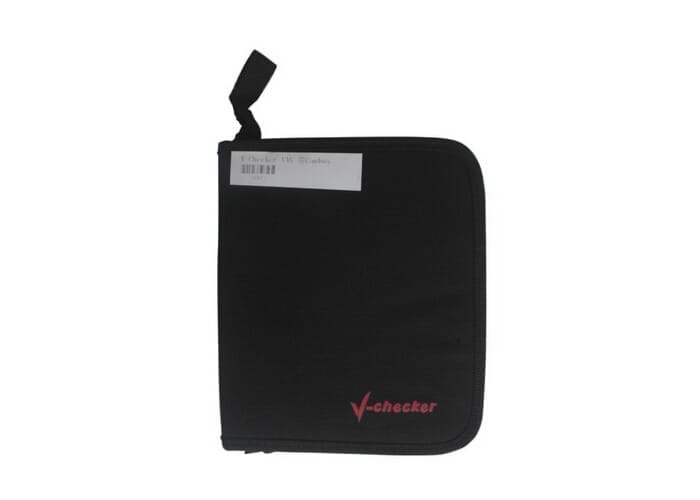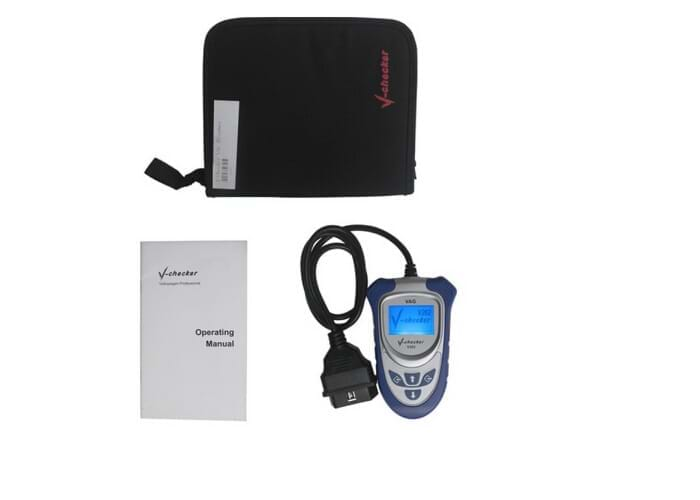 Package including:
1pc x V-checker V202 VAG Can-Bus Mini Scanner
1pc x Main Test Cable
1pc x Update USB Cable
1pc x OBD II 16 PIN Connector
1pc x User Manual
1pc x User Canvas Bag
◆ Company Strength
---
---




Paul has work with Our Company for 10 years,He is not only our business partner but also very good friend of our boss,honestly,he said he has quite a few choice for suppliers,but work so many years with us not only our products are good quality,service is nice...




---




→ Van Dijk-Netherland

---




We have do business together for years,When Autodiag come to Germany for exhibition,i went to meet them,Carl is a very nice and honest person,do business with them is happy,wish a long cooperation with them!...




---




Julio -- Spain

---




Autodiag is the best supplier in china,before i found them,i already in this business for years,honestly,compare to Autodiag,all other company is crap.




---




Vladimir Chuvakin -- Russia

---




Before we are not sure business with Autodiag,After we see their factory,we want to business with them and want to more in future!
◆ About Autodiag
---
??ShenZhen Autodiag Technology Co., Ltd was established in 2004,Specialized in Auto diagnostic Products more than 10 years.
Our factory is SGS certificated factory with 200 employees , we have a 8 professional technicians R&D Team which is rare in the whole industry, the workshop occupy an area of 5000 square meters, the annual production output was more than 1 million items which 30% are new products. we have our own brand V-Checker and we are able to do OEM or ODM. More importantly, We have very strict quality control system. From very strict factory QE Process to Authority products certificate, SGS,CE, ROHS and UL Tests, Meanwhile, We have very good cooperation with Launch, Autel and YanHua ,we are authorized dealer of these brands.
??


We have 10 years successful foreign trading experience ,have build good partnership with clients from 35 different countries, Now we have official distributors in Poland, Germany, Spain, France, UK ,Argentina and New Zealand ,Clients come to visit every month and we have been to different countries to hold exhibition, Such as Automechanika 2012&2014 in Frankfurt, and now we are preparing for the next AAPEX Show in Las Vegas.
Reliable quality products, best price, professional technician& customer service, ability to develop new products, fast and safe delivery, Life long products warranty make us best diagnostic tools factory in Shenzhen ,and our goal is be the BEST auto diagnostic factory in china, Be clients' best supplier in the world!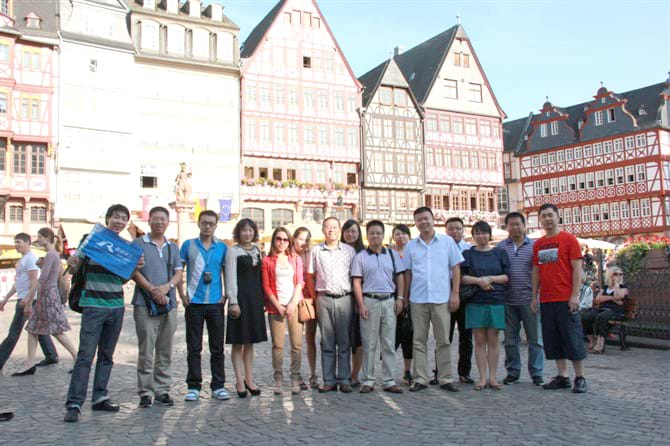 Enquiry:Multifunctional VAG Diagnostic Tool V-Checker V202 VAG PRO OBD2 Code Reader